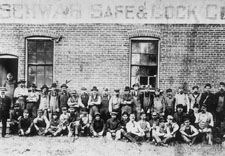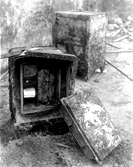 Company History
1872 - Founded by Leo Schwab in Lafayette, Indiana
1900 - Schwab Corp. name became synonymous with vital record protection
1932 - Began our 80+ year partnership (that continues today) as the preferred supplier to the United States Postal Service (USPS) for high security storage.
1963 - Schwab acquired Midwest Safe Co., in Cannelton, Indiana
1979 - Established on the American Stock Exchange
1982 - Schwab INSULITE™ Insulation became Underwriter's Laboratories (www.ul.com) Approved. After 2 years of research with a leading Civil Engineering professor specializing in materials, the ultimate insulation for fire protection is approved by UL. Schwab Corp.'s Insulite™ cannot lose its ability to protect from fire over time like competing brands.
1998 - Safe and Vault Door production moved from Lafayette to Cannelton, IN plant, moving all manufacturing under one roof.
2003 - The New Era of Schwab Corp. brought a highly experienced, motivated and innovative management team with nationally recognized expertise in manufacturing.
2003 - The first water resistant filing cabinet line is introduced to the world. The Next Logical Step™ - TRIDENT® Series Water Resistant Filing Cabinet line prevents vital record damage from sprinkler systems, fire hoses, floods and more.
2003 - Schwab Corp. purchased highly automated CNC machinery. Increased Quality, Productivity, and Capacity at the Cannelton, IN plant. This solidified Schwab's position as the leader in vital records protection equipment manufacturing.
2004 - Schwab Corp. introduced new processes for mixing the patented Insulite™ insulation, increasing overall production of fire files by 300%. Another fundamental step towards higher quality vital records protection.
2004 - Schwab Corp introduced the DataFORTRESS® - A revolutionary new media safe technology that has been projected to reduce the costs of IT Security and Healthcare IT drastically.
2004 - Schwab Corp. debuts the first ever fire resistant Side Tab™ End Tab Filing Cabinet at the NeoCon® World Trade Fair. Since the introduction of the Side Tab Filing cabinet series, medical facilities across the world have embraced this HIPAA Compliant Technology.
2005 - Schwab Corp. launches New Corporate Website, Version 3.0

2007 - Schwab Corp. launches New Corporate Website, Version 4.0

2008 - Schwab Corp. Acquired By Sentry®Safe