HIPAA
What is HIPAA?
HIPAA is the acronym for the "Health Insurance Portability and Accountability Act" of 1996. HIPAA
regulations consist of a set of national standards which are designed to force the health care
infrastructure to comply with strong security and privacy standards to protect personal health information.
Failure to comply with HIPAA can result in civil penalties (mainly fines) as well as criminal penalties
(up to $250,000 and up to 10 years in prison).

In a recent survey of more than 350 IT leaders in U.S. healthcare organizations, 60 percent consider upgrading security for HIPAA compliance to be their top priority.
Additionally, a survey conducted by Phoenix Health Systems and the Healthcare Information and Management Systems Society (HIMSS), an organization representing more than 13,000 healthcare institutions, revealed that less than 50% of affected healthcare systems have completed an assessment of the effect that HIPAA will have on their organizations. According to InformationWeek magazine, the final standards will take effect on April 21, 2003, while large health-care organizations have until April 2005 to comply with the regulations. Smaller ones are given an additional year to comply.

Why is HIPAA an issue for office product buyers?
HIPAA contains strong requirements regarding disaster recovery and business continuity planning. It is therefore essential that covered entities launch the disaster recovery and business continuity planning program in a professional and straightforward manner. Section -- 142.308 (a)(3) of the Proposed Security Standard requires:
HIPAA & Business Continuity/Disaster Recovery Overview Covered Entities
The below organizations that are included under HIPAA's definition of a "covered entity"
(and thusly are required to comply with the law) comprise of the following:


Indemnity insurers


Health Maintenance Organizations


Billing agents that handle activities on behalf of other covered entities and any organization...


that transmits health care claims


that transmits health care payment and remittance advice


involved with the coordination of health benefits


that determines health care claim status


that administers enrollment and disenrollment in a health plan


that determines and administers eligibility for a health plan


that administers health plan premium payments


that administers referral certification and authorization


that administers first report of injury or health claims attachments
The Best Records
covered entities draft a business continuity/contingency plan, defined in the proposed regulation as "a routinely updated plan for responding to a system emergency, that includes performing backups, preparing critical facilities that can be used to facilitate continuity of operations in the event of an emergency, and recovering from a disaster." One element of the overall contingency plan is a disaster recovery plan; which must contain a process enabling an enterprise to restore any loss of data in the event of fire, vandalism, natural disaster, or system failure. The plan must allow a covered entity to re-create, in the throes of a disaster such as a fire, the entire infrastructure necessary to guarantee information availability.

It's not all about HIPAA compliance, however. It's good business sense - during the course of developing a good disaster recovery and business continuity plan, you are likely to come up with some good information and data needed for high level business strategy decisions, such as determining and prioritizing all your organization's critical business applications. To state it as simply as possible, the first step in disaster recovery and business continuity planning is records protection.

The safeguarding of vital and irreplaceable nonelectronic documents is absolutely crucial for HIPAA compliance.

One well-known consultant in the HIPAA community, Michael Miora, CISSP, Founder and President of ContingenZ Corporation (www.contingenz.com), an international incident management and security consultancy, strongly endorses the use of fireproof containers for the protection of vital records in both hard copy and electronic form, especially in the healthcare industry where HIPAA mandates protection and preservation of health and related information, including signature information contained on consent forms. "Protection is also relevant for companies outside the healthcare industry that provide some level of self insurance and, therefore, become subject to HIPAA as covered entities or associates," counsels Miora.

Some potential approaches for protection of vital records include: on-site fire-rated vault, safe or file cabinet, off-site storage at another location of the organization, and storage at a vendor that specializes in off-site vital records storage. Most companies employ various combinations of the above approaches. Whether you go with on-site or off-site, the first action to take is to procure fireproof safes and filing cabinets for on-site storage, as you will always, at one point, have vital records on-site, and obviously, no one is able to accurately predict the precise time a business interruption will occur.

Unfortunately, standard filing equipment is believed to offer fire protection by a large majority of consumers. This thinking, attractive in today's cost-conscious environment because it "seems" cheaper, is erroneous and potentially dangerous. Remember, you're attempting to show potential HIPAA inspectors a "best effort" to protect your most vital information assets, as such it is highly advisable to seek the highest quality.

If you opt to store vital records onsite, it is imperative to seek products that are tested by Underwriters' Laboratory (UL) or other nationally known independent testing labs - absolutely steer clear of equipment with manufacturers' or non-independent ratings.

Who is in Compliance? Following is a chart provided by the US Department of Health and Human Services depicting the numbers of cases (in the thousands) that have worked or are working to comply with the regulation. The resolutions have been increasingly improving, but many still need to work toward this goal...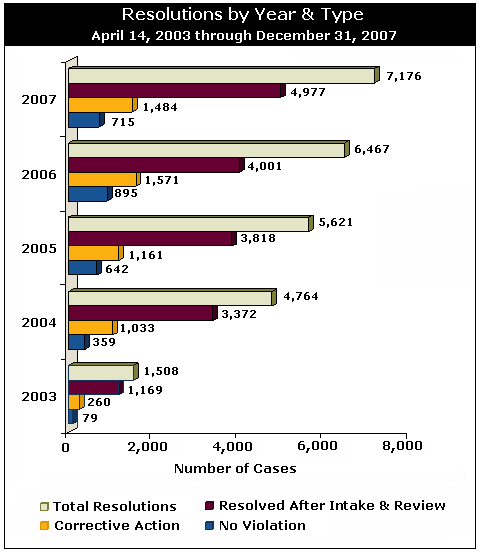 Source: U.S. Department of Health & Human Services

Sources for further info:
• U.S. Department of Health and Human Services - www.hhs.gov/ocr/hipaa/
• The International Association of Privacy Professionals - www.privacyassociation.org
• American Health Information Management Association - www.ahima.org/
• Healthcare Information and Management Systems Society - www.himss.org
• Phoenix Health Systems, HIPAA compliance recourses - www.hipaadvisory.com
• Centers for Medicare & Medicaid Services - www.hipaa.org
• ARMA International - www.arma.org

© Copyright 2007, Schwab Corp.