RECORD SAFES

Schwab FireGuard Safes are designed to handle the record protection needs of any business. A UL rating of fire and impact resistance accompanies every Schwab safe. From small to the largest capacity safes on the market, a Schwab safe means peace of mind. In addition, Schwab offers the largest variety of American made record protective products.

FireGuard Safes are equipped with a Group 2 key-change combination lock and a UL certified re-locking device to set the bolts if the lock is punched in a burglary attempt. Optional digital locks, x-ray proof locks or key-locking combination dials provide added security against theft or espionage.

All Schwab FireGuard safes are available in seven standard colors.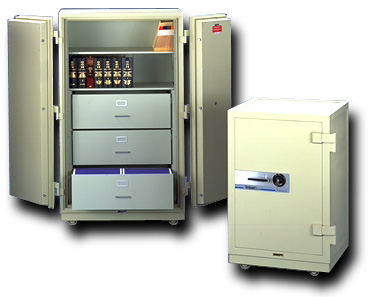 Specifications and Weights | Interior Accessories | Locking Options
Home | Why Do I Need Fire Protection ? | How Does it Work ?
Product Lines | Warranty Information | Testimonials
Company News | Frequently Asked Questions
Comments/Feedback | Links to Related Sites
Copyright 1999 Schwab Corporation Last Updated in April 2002