INTERIOR ACCESSORIES
All Schwab Record Safes have passed severe fire endurance tests and bear Underwriter Laboratories' Class 350-1 Hour Fire and Impact Resistant Label. This means that the safe's interior temperature will remain below 350ºF (well below the char point of paper) upon exposure to temperatures reaching 1700ºF for one hour or 2000ºF for four hours.

It also certifies that Schwab FireGuard Safes will survive a drop during a fire of 30 feet into rubble, such as a fall through burning floors.

Schwab Record Safe interior components are constructed of welded steel and finished in attractive, durable, air-dried enamel paint. They can be grouped in a variety of functional arrangements.
File Drawers
Available in two sizes, each is furnished with a handle, a label holder and a follower block. Full extension, ball-bearing suspension makes full extension smooth and access easy.
Inside dimensions (legal): 15"W x 11 1/4"H x 14 1/2"D
Inside dimensions (lateral drawer): 31 3/8"W x 10 1/4"H x 15"D


Adjustable Shelves
Available in four sizes for 18", 25", 36" and 40" wide safes. Shelves may be adjusted at 1/4" intervals, and added or removed as required.

Card Drawers
Available to accommodate 3" x 5" filing cards. Our card drawers include handles and follower blocks that keep all contents up front and easy to reach.
Size A: 3 - 3" x 5"
Inside dimensions: 5 1/4"W x 3 1/4"H x 13 3/4"D


Flat Drawer
Complete with handle and key lock, this flat drawer can be used with removable cash tray or check tray.
Inside dimensions: 16 1/4"W x 3 3/8"H x 16 3/4"D

Locker
Furnished with key lock, this locker makes storage both organized and secure.
Size: 12" x 16" locker
Inside dimensions: 16 1/8"W x 12 1/4"H x 16 7/8"D


Removable Trays
For use inside flat drawers, the cash tray or check tray is extremely handy. The check tray will accommodate two rows of checks up to 8 1/4" wide and 3 3/4" high.
Media Cooler
The Schwab Media COOLER can turn your fire file into one that protects computer media too! Cassettes, cartridges, compact discs and diskettes fit easily into this compact and economical case. When the COOLER is placed inside any UL Class 350 rated product, your computer media is protected from the heat and moisture of a fire.
Schwab's Media COOLER has a spring-loaded latch that automatically seals when the lid is closed.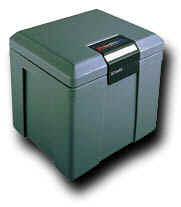 Maximum Capacities

1/4" Tape Cassettes:
24
3480 Cartridges:
12
5 1/4" Diskettes
96
3 1/2" Diskettes:
90
1/4" Tape Cartridges:
12
5 1/4" Optical Disks:
22
Compact Discs:
20
8mm Cartridges:
32
4mm Cartridges:
40
Jazz:
9
Zip:
28

Copyright 1999 Schwab Corporation Last Updated in April 2002