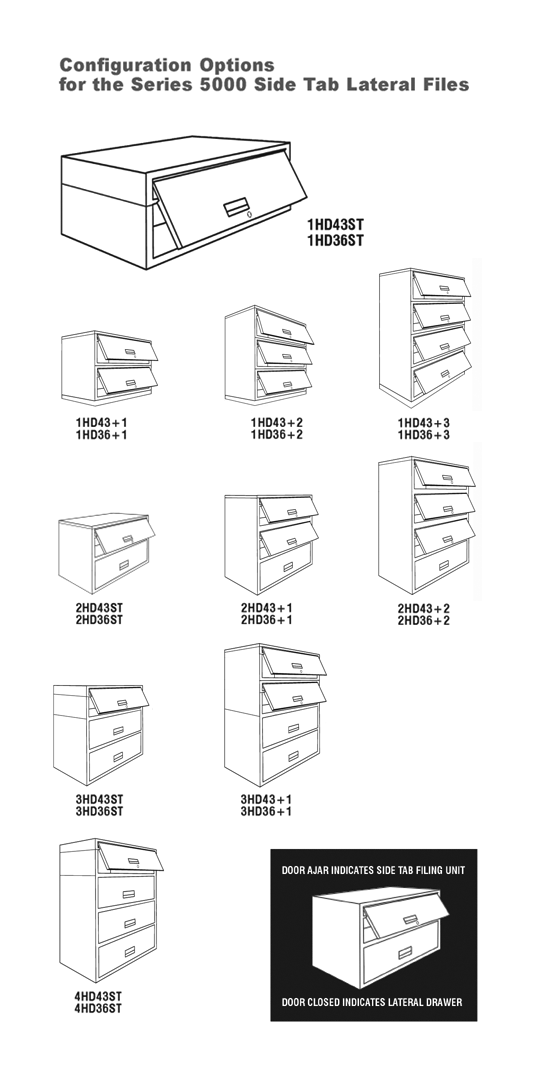 Accessory Equipment for Series 5000
Side Tab Lateral Files
INSTALLED
SHIPPED SEPARATE
Description
Part No.
Approx. Shipping
Weight (lbs)
Part No.
Approx. Shipping
Weight (lbs)

Universal letter/legal spacer for 43" side tab unit

Standard
N/A
23-8447
3

Universal letter/legal spacer for 36" side tab unit

Standard
N/A
23-8547
3

Wire compressor stands (3) for supporting file folders

Standard
N/A
23-8442
3
Locking Variations for the Series 5000
Side Tab Lateral Files
43" WIDE
36" WIDE
Description
Part No.
Part No.

Key lock on side tab unit*

Standard
Standard

Combination lock, Group 2 (see note)

23-4394
23-4397

Combination lock, Group 1R (x-ray and manipulation proof) (see note)

23-4395
23-4398

Combination lock, Group 2 with key locking dial (see note)

23-4396
23-4399

Additional plunger lock on lower drawer for dual control

23-4241

23-4236

Additional plunger lock on lower drawer for independent control

23-4242

23-4237

Medeco® high security U.L. listed key lock

23-2731

23-7232

Digital combination lock (see note)

23-5027

23-5028
Note: *Only key lock is available on side tab unit. Other locks are optional on drawers only.
Schwab Corp. Side Tab / End Tab Fire Files
All Schwab Corp. fire safe file cabinets feature a 1-hour UL Rated Class 350 rating. Schwab Corporation is the most trusted name in the manufacturing of fire resistant files, data & media safes, cabinets and vault, file and saferoom doors. To speak to an experienced customer service representative call Toll Free 1-800-428-7678.
© Copyright 2007, Schwab Corp.