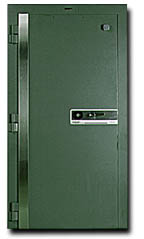 Sometimes striking when we least expect it, fire has been a leading killer of American businesses for years. When vital records and media files were lost in a fire - so was the business.

Will you be the one who feels the heat when your business records go unprotected for one day too long? Don't let that happen! Schwab Corporation's File Room or Vault Doors can save your business.

To ensure protection of records and other valuables, our file room doors come in two models and bear a UL Class 350-1 Hr. Fire Resistance rating. Meanwhile, our vault doors, with six models available, have UL Class ratings of 350-2 Hr., 350-4 Hr. and 350-6 Hr.

Each door is locked with five bolts on either side, which are heavily nickel plated and permanently lubricated. This boltwork automatically retracts when the handle is opened and automatically extends when the door shuts.

In addition, the bolts are checked by a three-tumbler Group II Key Change Combination Lock that is equipped with a UL certified Re-locking Device. This device resets the lock bolt if the lock is damaged by tool attack. A second UL certified device automatically deadlocks the door in case of tool or torch attack.

All hinges have roller-thrust bearings and can be placed on either side of the door with stainless steel covers available, some at an additional cost. Each door is also fitted with an easily operable escape mechanism inside and a beveled vault entrance for easy passage of wheeled carts. The doors come finished with textured vinyl paint in colors of gray, charcoal, forest green and tan, though you may consult the factory about customized colors.


ACCESSORIES

Schwab Day Gates
Designed specifically for use with Schwab Vault Doors, day gates restrict unauthorized entrance during hours the vault door is open. The day gate has a brushed aluminum frame ,heay duty keylock and attractive, smoked Plexiglass insert. Mounting hinges attched to the main door frame allow the gate to swing easily.

Day Gate Approximate
Model No. Description Shipping Weight
DGPLX32 32" Plexiglass 175 (80 kg)
DGPLX40 40" Plexiglass 185 (85 kg)

Automatic Door Closer
Automatic door closer uses an electromagnetic system that releases the door when the sensor detects either heat or smoke. Closer then automatically shuts the door from its regular 180° open position. Sensor is not included in closer package.


Home |Why Do I Need Fire Protection ? | How Does it Work ?
Product Lines | Warranty Information | Testimonials
Company News | Frequently Asked Questions
Comments/Feedback | Links to Related Sites
Copyright 1999 Schwab Corporation Last Updated in April 2002