INTERIOR ACCESSORIES
Although Schwab record cabinets come with standard interiors, you may customize yours from our complete line of accessories.
Just as no two businesses are alike, neither are their record storage requirements. At Schwab, we've developed a complete line of accessories to meet those varied needs. Schwab cabinets come standard with our most versatile interiors. You may also select from additional accessories, depending on whether your records are on letter or legal size sheets or are stored as computer printouts. Rollout shelves and flat drawers with locks are secure, convenient and preferred by many of our customers.
STANDARD INTERIORS
Listed below are the standard interiors for each model.
Models 1816CN; 1821CN; 1826CN
1 flat drawer with lock
1 adjustable shelf
Model 1831CN
2 adjustable shelves
Model 1844CN
3 adjustable shelves
Model 1856CN
4 adjustable shelves

Roll-Out Shelf
Extending out on a smooth ball-bearing suspension, this shelf permits easy access to its entire contents. Accidental removal is prevented by a positive stop.
Minimum height required: 4 1/4"

Legal Drawer With Lock
Full legal size, this drawer is furnished with a handle, label holder, follower block and lock. Full extension is smooth on a ball-bearing suspension.
Inside dimensions: 16 1/2"W x 10 3/4"H x 17 1/4"D (41.91 cm W x 27.3 cm H x 43.82 cm D)
Height required: 13 1/4"

Flat Drawer With Lock
Complete with handle and key lock, this drawer can be conveniently used with removable cash tray or check tray.
Inside dimensions: 16 1/2"W x 3 1/4"H x 17 1/4"D (41.91 cm W x 8.26 cm H x 43.82 cm D)
Height required: 5"

Printout Bar With Shelf
Convenient for many uses, this adjustable shelf may be moved at 1/2" intervals. The attached hanger bar allows for efficient storage of printout binders.
Height required: 13 1/4"

Adjustable Shelf
Flat shelf adjusts at 1/4" intervals.
Height required: 1 1/4"
Media Cooler
The Schwab Media COOLER can turn your fire file into one that protects computer media too! Cassettes, cartridges, compact discs and diskettes fit easily into this compact and economical case. When the COOLER is placed inside any UL Class 350 rated product, your computer media is protected from the heat and moisture of a fire.
Schwab's Media COOLER has a spring-loaded latch that automatically seals when the lid is closed.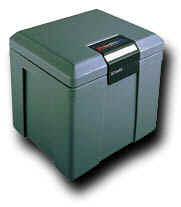 Maximum Capacities

1/4" Tape Cassettes:
24
3480 Cartridges:
12
5 1/4" Diskettes
96
3 1/2" Diskettes:
90
1/4" Tape Cartridges:
12
5 1/4" Optical Disks:
22
Compact Discs:
20
8mm Cartridges:
32
4mm Cartridges:
40
Jazz:
9
Zip:
28

[Home]
Media Cabinets | Record Cabinets
Copyright 1999 Schwab Corporation Last Updated in April 2002